Our differential service
Do you feel pain when you press on certain areas of your body? Have you suffered a blow or fall? Can you no longer bear the pain caused by the bowing of your back? Our team of traumatologists will take care of controlling and treating your ailment, trying to restore the natural state of your joints, tendons, muscles and ligaments.
In the Traumatology unit we guarantee an immediate diagnosis of any osteoarticular and muscular injury, as well as surgical intervention and outpatient hospitalisation if required. We also have an orthopaedics service, where we study which orthoses or prostheses you may need based on your injury or pathology.
A healthy locomotor system guarantees freedom of movement and helps us to support and protect our body's organs. Let us take care of it.
Traumatology
What injuries and pathologies of the locomotive system do we treat?
By means of a physical examination and an interview in which you can explain your symptoms, the traumatologist will conduct a diagnosis and prescribe a personalised treatment for you. These are the most common traumatisms and pathologies treated at CreuBlanca
Meniscus injuries.
ACL injuries.
Knee pain.
Shoulder instability.
Shoulder tendon ruptures.
Shoulder arthrosis.
Fractures from sports trauma.
Nerve compressions.
Hip impingement.
Arthrosis.
Neck pain.
Lumbago.
Slipped disc.
Ganglion cysts.
Hallux valgus (bunions).
Flat feet and cavoid feet.
Finger injuries.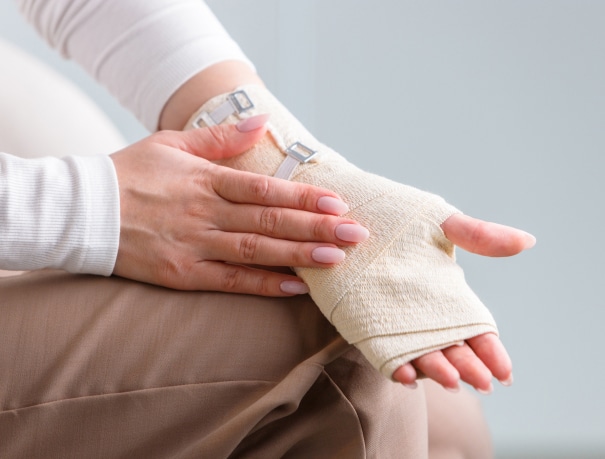 Main diagnostic means and technologies
At CreuBlanca we invest in and implement the most advanced and innovative technologies in order to offer an optimal healthcare service based on prevention, early diagnosis and personalized treatment.
Medical professionals
The specialists who will assist you at CreuBlanca
A professional team to care you
The opinion of experts
CreuBlanca's blog
You will find advice from our professionals on how to improve your health and information on the latest technologies applied in the medical health sector.
FAQS
Do you have any questions?