Our differential service
Oxygen is a vital element for the proper functioning of our body, and we absorb it through our breathing. Some lifestyle habits such as smoking or exposure to contaminants and pathogens can cause diseases and conditions in our respiratory system, but they can also appear due to a genetic background or congenital causes.
Do you have chronic cough? Do you sometimes feel that you suffocate when exerting little effort? Our team of pulmonologists use cutting-edge technology to carry out all the necessary tests and to diagnose and treat the pathology affecting your respiratory system's health.
Pulmonology
What diseases do we treat in pulmonology?
By means of a physical examination and an interview in which you can explain your symptoms, the pulmonologist will conduct all the required tests and prescribe a personalised treatment for you. These are the most common respiratory system pathologies that we treat at CreuBlanca
Acute or chronic cough.
Respiratory failure.
Asthma.
Pneumonia.
Bronchitis.
Cystic fibrosis.
Pleuritis (inflammation of the pleura).
Respiratory infections.
Chronic Obstructive Pulmonary Disease (COPD).
Occupational respiratory diseases (work-related).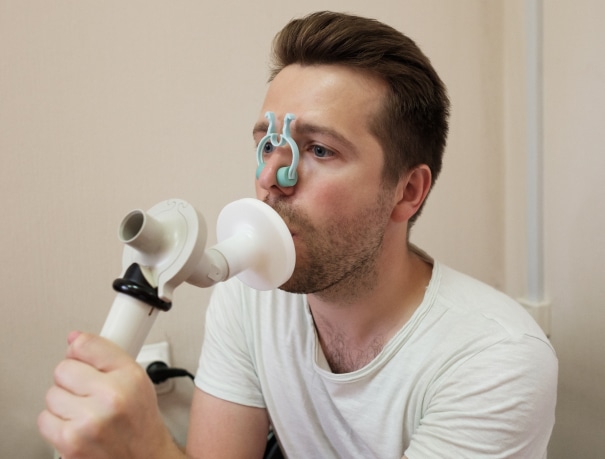 Main diagnostic means and technologies
At CreuBlanca we invest in and implement the most advanced and innovative technologies in order to offer an optimal healthcare service based on prevention, early diagnosis and personalized treatment.
Flexible bronchofibroscopy
Study of lung volumes with helium
Study of pulmonary diffusion (CO transfer)
Medical professionals
The specialists who will assist you at CreuBlanca
A professional team to care you.
The opinion of experts
CreuBlanca's blog
You will find advice from our professionals on how to improve your health and information on the latest technologies applied in the medical health sector.
FAQS
Do you have any questions?