Our differential service
Have you lost sensitivity in the limbs? Do you suffer from a sleep disorder? Do you suffer from shivers? By using advanced analysis equipment and techniques, the neurophysiologist will record, process and analyse the bioelectrical activity of the central and peripheral nervous system, assessing the physiological and pathological functions of the nervous system as a whole.
The vast majority of medical specialities require neurophysiological examinations to reach a diagnosis; therefore, neurophysiologists take on the role of a central service provider. They are responsible for analysing the activity of your brain, spinal cord, nerves, sensory organs and vegetative nervous system, which includes the sympathetic and parasympathetic system.
Neurophysiology
What conditions and diseases of the nervous system do we treat?
By means of a complete neurophysiological examination, the neurophysiologist will contribute to the diagnosis of the different diseases that affect the central and peripheral nervous system, allowing other specialists to prescribe a personalised treatment for you.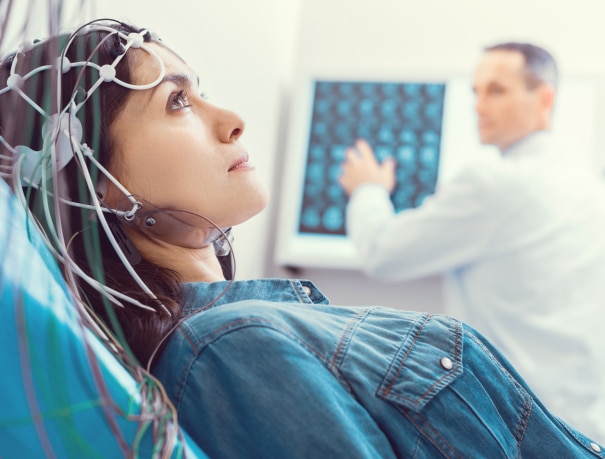 Main diagnostic means and technologies
At CreuBlanca we invest in and implement the most advanced and innovative technologies in order to offer an optimal healthcare service based on prevention, early diagnosis and personalized treatment.
Electroencephalography (EEG)
Evoked potentials: auditory, visual, somatosensory
Sleep polysomnography (nocturnal and daytime)
Medical professionals
The specialists who will assist you at CreuBlanca
A professional team to care you.
The opinion of experts
CreuBlanca's blog
You will find advice from our professionals on how to improve your health and information on the latest technologies applied in the medical health sector.
FAQS
Do you have any questions?