Manel Ballester is coordinator of Traumatology and Sports Medicine at the Creu Blanca Clinic and responsible for the Orthopedic Surgery and Traumatology service at the Mataró Hospital.
Dr. Manel Ballester has a degree in Medicine and Surgery from the Autonomous University of Barcelona. Trained in the United States and Switzerland, he is a medical specialist in Traumatology and Orthopedic Surgery, with experience in foot and ankle injuries and surgery, sports traumatology and knee and back arthroscopy. In addition, he has expanded his medical studies with an Executive Master in Management of Health Organizations at ESADE, and another in Hospital Management from the UOC.
Willing to share and receive new knowledge, he has always opted to promote courses, workshops and talks to promote the importance of continuous training among health professionals.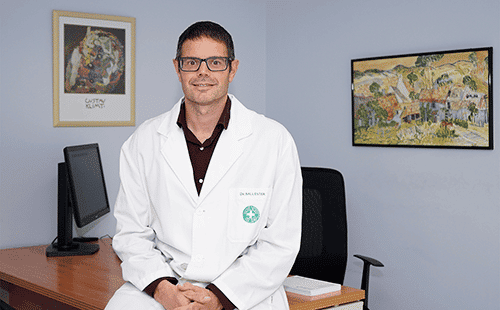 When was it clear that you wanted to dedicate yourself to medicine?
I come from a family of doctors, both on the father's and mother's side. So since I was little I had a great influence in the medical field. In the family after dinner, there was always talk of medicine, diseases, treatments and diagnoses. All this, whether you like it or not, ends up influencing you, in this case in a positive way.
From a very young age I had the opportunity to help and be involved in Creu Blanca, which allowed me to discover that I wanted to be a doctor.
What motivated you to specialize in Traumatology and Orthopedic Surgery?
During my medical career I had doubts about which specialty to choose. In the six years that the race lasts you see brushstrokes, although without putting into practice all the specialties.
In the last year of university, it is time to decide what you want to specialize in. In my case, I was able to carry out practices that allowed me to come into direct contact with trauma. A medical specialty with which I felt comfortable from the first moment, due to the fact that it is more practical and very manual.
Despite the fact that there was no orthopedic surgeon in my family, I do not regret having chosen this specialty. And, in the long run, you realize that all branches of medicine have something interesting to offer us.
What encouraged you to continue training and specialize?
First you train as a doctor, a period that allows you to study and observe how all the things that happen around you work. After you focus on a specialty, to continue learning. Once finished, the point comes when you realize that you need to continue training, because the knowledge and training in medicine is infinite.
Why did you decide to study in the United States and Switzerland?
In addition to paying attention to what happens to us on a daily basis in our work, I think that one of the most important aspects of this profession is to open your mind to other places, which are bigger or do different things. Following this reflection, I decided to travel to the United States and visit leading medical centers in surgery and treatment of foot and ankle injuries.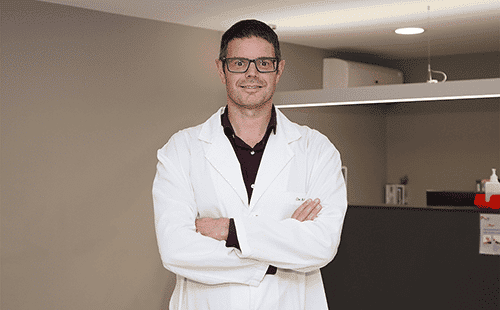 What responsibilities do you have as coordinator of Traumatology and the Creu Blanca Surgical Area?
Initially I started coordinating small areas and small groups of specialists. The fact of gradually expanding my responsibilities has allowed me to realize the importance of being well organized to offer the best service in diagnosis and treatment to patients.
I currently coordinate the Traumatology Unit and the Creu Blanca Surgical Area, which is made up of a large group of specialists and we touch different areas. Good coordination allows us to reach goals and, not least, empower people who are passionate about this specialty. Through organization they can carry out their tasks as well as possible.
We know that you often carry out training activities through courses, workshops and conferences. What drives you to promote this line of training?
An important part of our profession is training. In my case, year after year I have been training, like many other doctors and health professionals. Beyond training on a personal level, little by little you realize the importance of training and teaching others. I have always been interested in promoting courses and talks, among other initiatives, within Creu Blanca and in the Traumatology Area.
All this involves effort and organization. But I think it is worth continuing in this training line, since we always manage to learn something and thus improve as people and as professionals.
Thank you very much, Dr. Ballester!
Tags: