Our differential service
Known as "natural medicine", homeopathy, as well as acupuncture, has a prominent place in our centres. At CreuBlanca we have a team of meticulous homeopaths with extensive training and experience that use natural medicine to prevent, treat and relieve the symptoms of different short-term and chronic diseases, as well as minor injuries.
Do you have any allergies? Do you suffer from atopic dermatitis? The homeopath uses diluted tablets or solutions that contain a small amount of a natural active ingredient to treat different conditions. It is never too late to try to give our body the boost it needs to heal itself.
Homeopathy
What diseases do we treat with homeopathy?
By means of a physical examination and an interview in which you can explain your symptoms, the homeopathist will prescribe a treatment exclusively for you based on natural medicine. These are the most common diseases and conditions treated with homeopathy at CreuBlanca
Chronic pain.
Recurrent infections.
Allergies.
Atopic dermatitis.
Rheumatoid arthritis.
Irritable bowel syndrome.
Sprains.
Muscle strains.
Side effects of cancer treatments.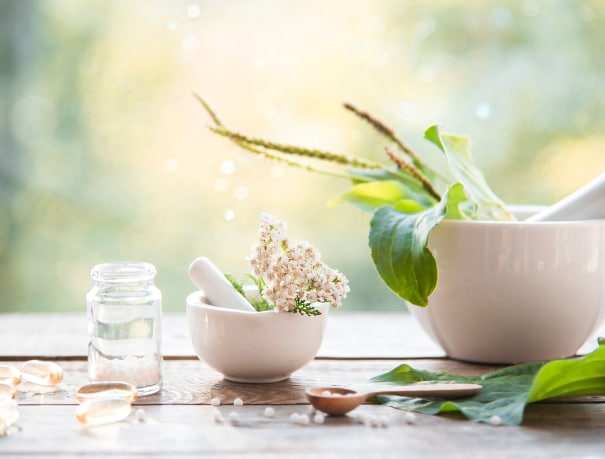 Medical professionals
The specialists who will assist you at CreuBlanca
A professional team to care you.
The opinion of experts
CreuBlanca's blog
You will find advice from our professionals on how to improve your health and information on the latest technologies applied in the medical health sector.
Questions about anxiety disorders
All of us at some point in our lives have felt anxiety. But, we wonder: Is it a normal part of life? When do you really have to worry?
Irritable Bowel Syndrome: symptoms and diagnosis
Irritable Bowel Syndrome (IBS) is a chronic and benign functional digestive disorder, characterized by the presence of abdominal pain, bloating, and alterations or changes in intestinal rhythm (diarrhea or constipation). It is a very frequent pathology, which affects around 10-15% of the population in Spain and represents 25% of the consultations with the digestive doctor.
Psoriasis: causes, symptoms, diagnosis and treatment
Psoriasis goes far beyond an aesthetic problem. It is a chronic inflammatory pathology of the skin that causes red, dry and scaly patches located mainly in visible places on the skin, which can cause pain, burning and itching.